Written by Editor
Tuesday, 14 July 2009 00:00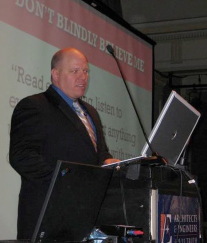 It was the best turnout ever forArchitects & Engineers for 9/11 Truth. Perhaps, the reason for the large turnout was because we spoke in tandem with the new hard-hitting (FF911Truth). The dedicated 9/11 Truth folks in Seattle completely went to town on marketing and brought in a sea of 580 faces. The universities were thoroughly canvassed—including the last minute faculty box stuffing in the Department of Architecture at the University of Washington.
Erik Lawyer of FF911Truth and Richard Gage, AIA, of AE911Truth double-teamed the crowd for an hour each, and then answered questions together for an hour. Before the event we had 45 believing that planes/fires brought down the twin towers and afterwards only 4. The remainder believed that controlled demolition was responsible. Before the event we had 61 who were unsure and after only 14. So 88% of what we could call newcomers moved off of their positions. A total of 26 folks had not heard of Building 7. We had 10 firefighters, 4 architects, and 14 engineers. 4 were structural engineers. It appeared to us that all of these professionals were convinced of C.D. Of course we all would love to see a whole lot more newcomers arriving at these events across the country.
We had a couple of dozen come to the Ouch My Eye art gallery for the Northwest Region AE911Truth and FF911Truth Strategy Meeting. In addition to the A/E outreach effort we helped Erik's FF911Truth gain support and launched with local help for his new campaign to knock on doors at all the firehouses across Seattle and beyond. We have several new volunteers and sustaining members as a result of all these activities. We have a new petition signer, Robert Marceau, who came all the way from MT, who is a structural engineer with 30 years' experience—including 35-story high-rises.
Thanks everyone for making a major dent in Seattle's collective unconscious.