Written by Editor
Monday, 24 August 2009 00:00
Featured Petitioner, 40-year Architect Stephen Barasch, AIA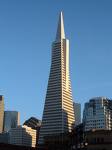 Among the nearly 800 architects and engineers who have signed our petition comes one architect formerly with William L. Pereira & Associates. One doesn't get much closer to the elements of high-rise design than with the pyramid-shaped Transamerica Building in San Francisco. Stephen Barasch, AIA, our Featured Petitioner, was a member of the architectural design team for that 48-floor structure. Barasch was also instrumental in the Mark Hopkins Hotel architectural design, also in San Francisco.
After leaving William L. Pereira & Associates, Barasch founded his own architectural firm, Barasch Architects & Associates, located in San Luis Obispo, CA, with an office in Pasadena, CA. The firm was contracted by the City of Los Angeles following the Northridge earthquake to characterize the seismic response of 27 buildings to the waves emanating from the Northridge epicenter.
Barasch made the following statement upon signing the AE911Truth Petition: "After reviewing the data presented by the Architects & Engineers for 9/11 Truth organization and through my independent assessment of the data I have reviewed, and based on my 40+ years of professional experience, I have concluded that it would be nearly impossible for any of the principal World Trade Center Towers to collapse in the manner or in the recorded time frame as a result of any fire or explosion caused solely by the impact of terrorist-guided aircraft alone. Braced steel frame buildings simply don't collapse in a symmetrical manner with a uniform plume of debris in 102 or 56 minutes respectively with modern structural design standards and state-of-the-art life-safety systems which must be continuously inspected by local building inspectors based on ever-increasing performance standards centered on human survival."