Written by Richard Gage, AIA
Saturday, 05 September 2009 00:00
3 Speaking Events and 2 Strategy Meetings Gather Patriot Groups and Draw 2 State Reps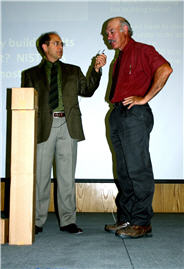 The patriots are out in full stride and the ground is fertile in Southern Montana. Thanks to David Milak of Sacred Mysteries bookstore, we had three full speaking stops on 8/28, 8/29, and 8/30 in Bozeman, Livingston, and Emigrant, along with three articles, six ads, two radio interviews, a meeting with a 9/11-aware state representative, and two AE911Truth Mountain Region strategy potluck meetings.
We were joined onstage by one of our 30 structural engineers, Robert Merceau, PE, a 40-year structural engineer with a masters degree in Structural Engineering Science who has designed several high-rises. Bob gave the audience many insightful comments from his expertise and highlighted numerous fallacies in the NIST report on WTC7 and the Twin Towers. We had some very nice interactive exchanges that worked well with the audience.
In Livingston we had 92 attendees. Beforehand, 24 were "unsure" what brought the towers down. Afterward, no one was unsure. 100% conversion – the evidence speaks for itself. In the audience was Montana 61st District state rep Joel Boniek (R), with whom we had an inspiring action-oriented dinner.
In Bozeman, 131 people showed up, and 39 were either unsure or believed in the official conspiracy theory beforehand. Afterward none did. 100% again.
At each of these events we followed up with a Mountain Region AE911Truth Strategy Potluck meeting and more than 15 people came to each. Look for the first 11th of the Month street action in Bozeman at the Gallatin County courthouse this year.