| | |
| --- | --- |
| | |
Written by AE911Truth
Monday, 01 April 2013 18:17
PENCILS DOWN!

The Operation Tip the Planet
Ad Contest Entries Are in!

FYI: Since the contest began, we've raised $50,000 for a total of $100,000 in matching funds, half of the $200,000 we need for our billboard, subway, and grassroots-to-global multi-city campaign!

Donate Now to help pay for more ads in more cities! All of your donations are being matched. You give $25 dollars and it's really worth $50. If you can't donate right now, you can still become a supporter for FREE, and stay hooked into this growing project.
It's Time to Show Your Love for
Your Favorites
VOTE NOW


for the ad or slogan that may become the
message seen around the world this September

The Deadline to vote is
Saturday, April 6, 11:59 p.m. ET
We've been blown away by the overwhelming response to the contest. Believe it or not, we received 370 entrees! Thank you so much for the thoughtfulness, creativity and passion you poured into your amazing submissions!
Here's How Your Vote Can
Change The Course Of History
We need your discernment to help us choose the best of the best. It's not going to be easy! There are so many excellent entries. But only the best will do to capture the hearts and minds of the public in the most massive 9/11 Truth campaign ever!


In case you missed the last Action Alert, we're taking this ad campaign worldwide to hundreds of cities – in subways, on billboards, in storefronts, and on bumper stickers, posters, tee shirts and more. But we need your votes to make it work!


Together, with the right ad, we'll generate enough media coverage to finally bring widespread attention to the 2,000+ architects and engineers calling for a new investigation into the destruction of the three WTC skyscrapers on 9/11.

Vote for the most innovative concepts to intrigue 9/11 Truth newcomers, give mainstream media a story they can't resist and help decide on the top ten "vote getters" to receive over $1000 in cash and prizes!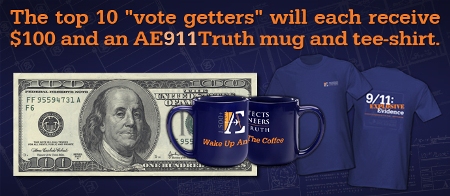 This "pull out all the stops" viral, trans-media campaign is supported by a coalition of like-minded 9/11 Truth organizations, including:
The Thrive Movement
NYC CAN
9/11 Truth and Justice in Canada
Newsvoice.se
Agape Christian Community
AMPAC
Political Leaders for 9/11 Truth
The 9/11 Consensus Panel
We Are Change groups
Reinvestigate 911
Citizens Aware and Asking
9/11 Journey For Truth
Occupy 9/11 Truth
San Diegans for 9/11 Truth
Citizens for an Informed Community (CIC)
Greater Boston Alliance for 9/11 Truth and Justice
Connecticut 9/11 Truth and Justice
Nation of Islam
Accountable Democracy
Data Scientist 9-11 Truth

Please let us know if you have a group that would like to join our coalition at lkatleman

ae911truth.org.
| | |
| --- | --- |
| | |
| Ed Asner | Daniel Sunjata |
We anticipate support from many celebrity sponsors, and already have the support of famed actors Ed Asner and Daniel Sunjata.

Our month-long global advertising and grassroots action campaign, beginning on September 1, 2013, will coincide & synergize with:
AE911Truth reaching 2,000+ architect and engineer petition signers
9/11: Explosive Evidence – Experts Speak Out airing around the world
The delivery of the AE911Truth petition and DVD copies of Experts Speak Out to Congress members
2013 Washington D.C. 9/11 Truth conference

We are counting on these simultaneous actions to have a multiplier effect that captures the attention of the public – and the media – and finally tips the entire planet toward 9/11 awareness.

Don't wait a moment longer! Vote now!
Or donate to support this unprecedented action!

Reminder: The ideas, slogans and images submitted to the contest may or may not be used to create the final ad.